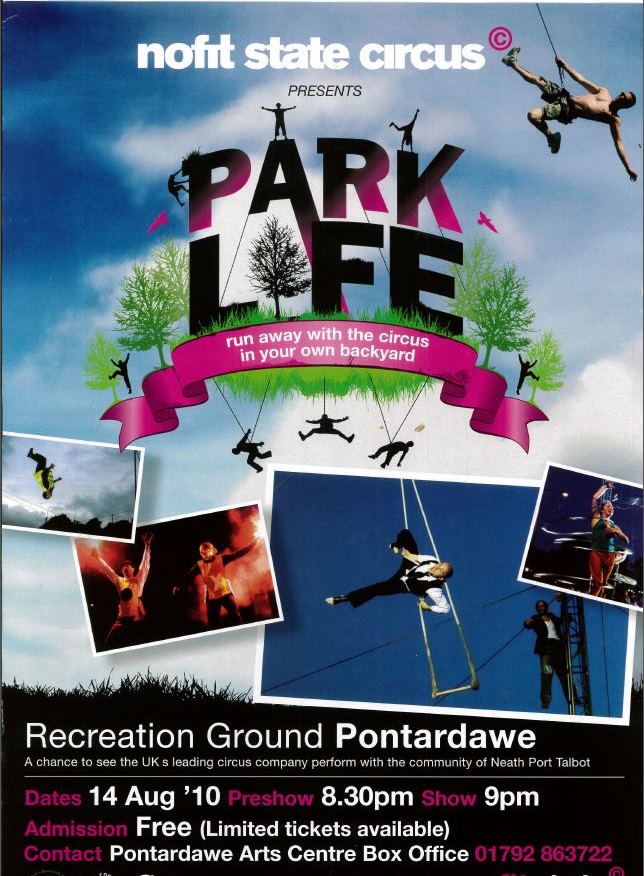 Parklife
2009
Originally titled The Great Outdoor Circus Enquiry, the Parklife project was a massive creative conversation to explore and develop ideas for large scale outdoor circus performance, new ways of working and new ways of creating extraordinary experiences for our audiences. The project concept came from a meeting between Orit Azaz and Ali Williams in a pub in Ross-on-Wye where they discussed a joint interest in how to create circus outdoors, with strong audience connection and narrative. As they had no answers to these questions, they decided to embark on a creative research process that would be a touring laboratory. They would use some of the company's old kit to keep the costs down and decided to put the ImMortal doughnut and a lot of truss in public parks across the UK to try out ideas and ask the public what they thought. At the time, we hoped that the Parklife project would produce some great ideas for a large scale outdoor circus performance that we would go onto create in 2011 leading up to the London 2012 Olympics. As it turned out, we were commissioned by ZEPA to make Barricade after the Parklife project, in which we were able to use all of the knowledge gained from the Parklife enquiry.
The Parklife research conversation happened in many modes and forms – theatre devising, circus skills training, exchanging skills and approaches with other practitioners, engaging with objects and equipment, site responsive work, music / singing, public engagement – and included collaboration and creative exchanges between professional artists and creative practitioners at all levels of professional development, local community arts and sport groups in each area, the passing public and anyone else who wanted to join in. We also promised our festival partners that we would produce a large scale (1000+ audience), night-time, performance, involving the local community collaborators alongside our performers, at the end of each residency week.
Parklife began with a creative development week, 'It's A Week', which took place outside a derelict warehouse off the Millennium Coastal Path in Llanelli, South Wales. We brought together a mix of professional, emerging and trainee artists to try and create a framework for the show. This was followed by its first outing at Stockton International Riverside Festival 24th July – 1st August 2009 where the locals were given deckchairs to watch rehearsals and the company received instant feedback on the show.
Parklife was commissioned by the Without Walls consortium of UK arts festivals to play over two years and residencies planned for 2010 included Brighton Festival and Norfolk and Norwich Festival. Following on from the success at Stockton we decided to extend the project past May 2010 and involve some new partners. Ali applied for Arts Council England Funding to subsidise three extra residencies in England for 2010.
2010
In 2010 we received additional funding for extra residences and the 2010 tour had six week, long residences at Norfolk & Norwich Festival, Brighton Festival, Pontardawe Arts Festival, Taunton Brewhouse, and Inside Out Festival in Dorset. We ran creative exchanges with hundreds of extraordinary community participants and incorporated groups with a wide range of skills into the final performances in each venue. We tried everything, Ninjas, free-runners, choirs, samba bands, football teams, circus groups, globe walkers, gymnasts, bocker-stilts, roller skaters, bicycles, martial arts and rappers to mention but a few. We were able to assess which skills worked well on this large stage and which ones we'd continue to work with in the future. We invented new rigging, played with new props, invented impromptu happenings at odd times of day, and made the most of the opportunity to create a new show with new skills for each residency, adapting, refining, developing and changing material as we toured. At Brighton Festival, we played to an audience of 8000 on The Level and were nominated for the Pick of the Festival award.
Parklife was an extraordinarily intense creative journey, which resulted in ideas and impulses for not one but many new shows. It was an amazing opportunity to create a shared vision, working methodology, and set of references for all members of the creative, technical and performing company as well as build relationships with partners, community groups and individuals across the UK. This shared understanding underpinned all of the subsequent outdoor work and enabled some very large projects to be realised in very short timescales.
Peter Cox worked as a Writer-in Residence during the second phase of Parklife residencies - and created a blog which you can find here.
Soundtrack
Stroll in the Park